We produce in a number of canvas areas, including the  stainless steel framing as needed. Many need only canvas replacement, where we will template the canvas to your boat, providing you with a custom-fit replacement.
We offer you a quick, responsive bid and production estimate, and then will manufacture your canvas on time, as promised. View our various sections.
All our work is guaranteed.
Enclosures are a pretty broad–well, all-enclosuring term. These commonly include any combination of canvas top and sides, plus the clear glass in either Isinglass, or acrylic. Zippers and/or fasteners are commonly attached, allowing a convertibility of functions, with one final, form-fitting product.
We have the ability to significantly customize, for instance inserting an array of creative enhancements: U-shaped windows within the clear, or covered sky windows for sailboat biminis, etc.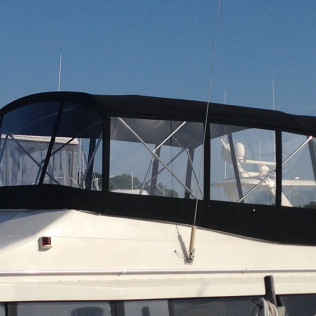 View our gallery of Boat Covers. Click for the full gallery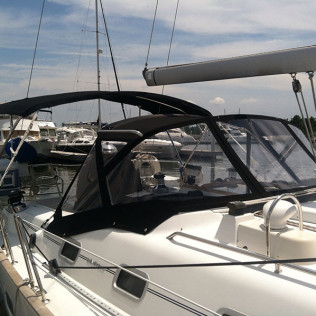 Sun covers, whether for sailboat or power boat, are essential in the hot, Florida sun. Because of the intensity, however, these covers will wear over time, needing replacement. We can fabricate precisely to your frames or, where needed, fabricate the stainless steel framing to attach the cover, bimini, dodger, sun fly strut, or more. 
View our gallery of Biminis and Dodgers. Click for the full gallery.
Boat covers we make include from full-top covering the cabin cockpit, to an all-encompassing drawstring-type cover. But the category is broader, including anything else that benefits from a cover: instrumentation and control station, binnacle covers, sail covers, engine covers, grill covers, winch covers, coats for Spot and Fluffy, and more.
While we've not made an exclusive section here to detail it, ask us about interior and exterior boat upholstery.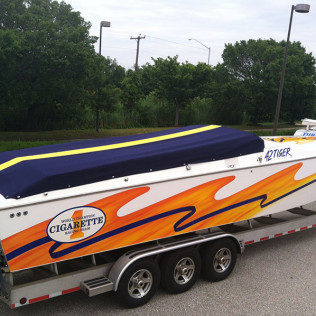 View our gallery of Boat Covers. Click for the full gallery
PO Box 15003
Sarasota, FL 34277